Stone masonry is becoming a dying art and essential trade. Often people have to wait months to have natural stone projects done by competent stone masons, or may even be forced to go with another finishing material because there is such a shortage of qualified, or willing tradesman. This shortage drives up the price, further depressing the stone market and hurting unsuspecting consumers that end up choosing inferior materials and workmanship. A sorry situation because stone masonry projects are unequaled in beauty, durability and are virtually maintenance free. On the other hand there are many artistic type people that would make great stone masons if they were just given that little stepping stone jump-start towards achieving their dreams of having such a career.....and that is what my story is all about.
On the other hand there are many artistic type people that would make great stone masons if they were just given that little stepping stone jump-start towards achieving their dreams of having such a career.....and that is what my story is all about.

I operate a stone quarrying business called Kootenay Stone Centre. After the early 80's recession our stone sales never fully recovered. In one attempt to increase our sales I wrote a 'how to book' on doing beautiful stonework from all the information I had gleaned from the many stonemasons I had sold stone to over the years. And from my own experimenting with stone and mortar. Though this did encourage people to learn stone masonry for their own small projects, it didn't increase stone sales enough....Having had reasonable success with writing a book about stone masonry I decided to design a course that would not only help people learn stone masonry as a career....it would teach them how to start and operate their own small stone masonry business. The students would learn to design small projects, using the easier to learn styles of stonework, that would appeal to and be affordable for the average home owner. This would increase their ability to start a new small business on a shoe string budget. Of course we could not hope to teach them everything about stone masonry in such a short time...much of it only comes with time and practice...but we could give them enough to expand their employability or start their own business. We mostly taught facing with stone, dry-pac and random ashlar styles, floors, patios and landscaping with stone. These are all quick to learn and are enough to create many projects. As Al said, they would learn more and get their speed up later on as they did projects either for their employers or their own businesses.We would also teach them stone murals as a specialty, to give them an added advantage to offer something kind of new and innovative from the usual stone masonry.

Finally the big plunge was made! Kootenay Stone Masonry Training Institution opened in July of 1990 with 6 students and Allan Tater, a disabled mason (and former customer of our stone business) as the main instructor. Thoughinstructor Tater was no longer able to do masonry for a living, he made a great teacher. I had designed the course so he would not have to do much physical labor. He did a fantastic job and the students loved him. The school also recruited Salmo artist Charlotte Planidin to design the pictures to be rocked in the unique stone murals that are the specialty of the school. The original one month course included the practical (hands on) stone mural training, plus other styles of stone masonry along with classroom training. The students were taught how to start and operate their own small business doing stonework with very little investment. We tried to concentrate more on the smaller easy to do projects the average home owner can afford in order to increase the job potential for these new small stonemasonry businesses.
Everyone that took the course really enjoyed it and they did fantastic stone projects. Some have started their own businesses and some have worked as employees. Some are using their new skills to improve their own homes and some have just expanded their job potential by adding it to their port folio of talents and abilities. But all agreed that it was well worth it. Some of those that took the stonemasonry courses even came back here to teach at the stonemasonry school.

The town of Salmo has also benefited because the unique stone murals depicting segments of local history and animals, done by the budding new stone masons, have become a major tourist attraction. The murals and other stone projects done during the training are a permanent testimony to the successful teaching methods implemented. They show surprisingly fine quality workmanship, taught in an amazingly short time. The course is a learning holiday and the students get as much from the camaraderie and beautiful setting as they do from the new techniques they learn.
Though the original intent was to promote the use of our stone by teaching people how to do beautiful stonework, the benefits have gone far beyond that. It is such a rewarding pleasure to work with these people and help to give them that little 'stepping stone' towards achieving their dreams.
Many of the former students send me pictures and letters about what they are doing. It is wonderful. There are six of the stone murals all designed by Charlotte Planidin. Five were done by my school, but the first THE GOLD PANNER was designed by Charlotte. I donated the stone for it, gave Charlotte the book I'd written on stonemasonry and a crash course on how to do the stonework. Being very busy with so many other things I forgot to tell her that you can't design a lot of detail into stone pictures. Sooo she just went ahead with her wonderful gift of being an artist and revolutionized the concept of stone murals! Charlotte designed and supervised the project. And she, Donny Kinnersley and Jerry McElroy diid the stonework. The murals are a tourist attraction for Salmo and a marvel to many that see them on the internet.

The 5 murals that were done by the stonemasonry school were all designed by Charlotte and the stonemasonry was done by students in five different courses... The first "THE OLD TIME LOGGERS ON SPRINGBOARDS" - (instructor Al Tater) - "GRIZZLY BEAR" (Instructor Al Tater.) - "OLD TIME MINERS" (a copy of the painting done by Bill Taylor) ...complete with real ore mortared into the ore car .....donated by Doug and Maxine Lukey ( Instructor Al Tater) - "ROCKY MOUNTAIN BIG HORNED SHEEP" (Instructor Iris Lamb) - AND "THE MAJESTIC ELK." (Instructor Iris Lamb) There are other unique stone projects and pictures done in stone in Salmo. We are like Chemainus, we also have murals....except ours are "PETRIFIED MURALS."
Alllan Tater moved away so for awhile I taught, but found it to hard to run the stone business and do the courses too. Not only that, it was hard to get enough people together at the same time that could come for a whole month, so there wasn't even enough money to pay an instructor. It was also hard to arrange accommodation when they did come. I finally got frustrated with trying to put it together and just kind of put it on hold, other than doing some one day courses from time to time. I knew it was a good thing and that it was needed, but I guess the time was not right. as the last stone mural was the 'Majestic Elk' which I instructed later in 1990. (But we hope to do more with the new two one week modules for 'STONE MURALS' if enough people are interested at the same time. ) ...Then my son Randy taught one small two week class ,and it was easy to arrange accommodation for that one, as there were only two students. Then Randy moved to Kelowna.
In 2003 I was looking at a property not far from my stone business for a friend. He decided he didn't want to buy it, but I got to thinking what a great place that would be for stone school accommodation. I think it was on my mind because the previous owner had done a lot of river rock planters all over the place. I didn't 4 figure I could possibly borrow the money to even buy the land let alone build accommodation. There was a house trailer there, but it needed a lot of work and even then it would not house many. But it kept bugging me. I didn't want to make any mistakes, so I began praying about it and asking God for direction and confirmation if this was the direction I should go. I knew if God was in it it would be a good thing, but if it was just Iris' idea we better forget it. I went to Fruitvale one Sunday to take my Granddaughters to church at Fruitvale Christian Fellowship, which was unusual as I usually went to church in Salmo. The minister, Pastor Bryan, didn't know anything about my situation or prayers. He preached on FAITH from Jer 29:11 "I know what I'm doing. I have it all planned out--plans to take care of you, not abandon you, plans to give you the future you hope for. ....... It was a very good sermon and at the end of it he said "There is a saying that goes " JUST BUILD IT AND THEY'LL COME ". I could hardly believe my ears….but the way it hit me in the spirit I knew it was a message from God just for me and that this had been a divine appointment! On the strength of that message I went ahead and made the deal and somehow I managed to borrow the money. I still don't know how it happened! ...I began with the trailer on the property and I proceeded to work many late nights to remodel it. Only getting help with the very difficult parts. My plan was to make an addition to it to be used for bedrooms for the students. Well that was "MY" plan…..but obviously God had a different wonderful plan. I still don't know how that part happened. I felt like I was in a dream as it all came together. My miracle new (to me) John Deere 590D excavator was used to do the first step. Some trees were pulled out and leveling the ground began in preparation to build a brand new building for the school. I had to put my new excavator up for collateral to get a loan for material and then all the rest happened so amazingly fast.

My wonderful brother and sister in the Lord, Rod and Jo Moody stood on the foundation with me and we prayed God's blessing over it......and that it would be used to God's glory. And it has been !! As each phase was ready the right people showed up to do the job and the plans for the building changed so wonderfully to be more than I could have ever hoped or imagined. People gave me good deals and many of them said they felt this was a good thing I was doing. I even hired some of my stone splitters to do a lot of work on the building!

Though the building was not finished, it was ready enough to put on a two week class of 4 in Sept. 1993. Mark Grimm who had taken the fifth class (Rocky Mountain Bighorn Sheep stone mural etc.) I instructed Mark....who was the only student ..way back 13 years before, It is so neat that he started by taking the course all those years ago and now he was teaching it. Like he said "It has come full circle." Mark did a wonderful job teaching and the guys just loved him. They did wonderful stone work. You would think they had been doing it for a long time. They even did some stonework on the front of the new building. It looked great. All the rockwork is just fantastic. People that come to see it can hardly believe that most of the students have not done stonework before. We have had people from as far away as Texas, Alaska, Virginia, Oregon, Ontario and more.

When we did the next two week course Denis Delisle who had taken the second stone course we did way back in 1990 (Grizzly Bear Mural etc.) that Al had instructed came and taught that class. The students just loved him too, he is such a character! They really enjoyed the course and learned a lot. ........The next year the building was nearly finished and I had people wanting to take the course, but all my former instructors were too busy with other projects. I had been thinking what a good teacher Ken McCullough would be, but figured there was no way he would do it as he had been very busy all those years since he took the very first course in 1990. Ken who was still using the business card he designed during that first course had gone on to become one of the best stonemasons I have even seen. Finally I decided I had nothing to lose by at least asking him, so I phoned and got this weird disgruntled message on his machine. I left a message anyway and when I got back from church on Sunday there was a message from Ken who always gave me a ribbing about being a Christian. "This is god......call me" To make a long story short, he agreed to come and be the instructor. He was tired......how timely.....of doing what he had been doing! He and the other did a wonderful job and continued to teach until he decided he wanted to be closer to his home and family.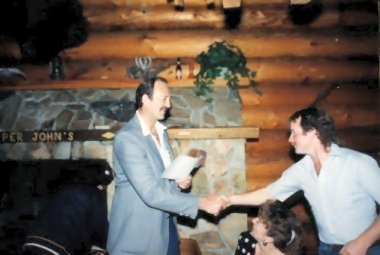 Ken receiving his certificate from our first instructor Al Tater in our very first course in 1990.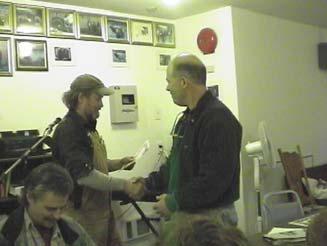 Ken giving Bill (from Alaska) his certificate at my stonemasonry school in 2005.
So far five of my instructors were all former students ..........It really has gone full circle.!
In the movie "FIELD OF DREAMS" where that saying the Pastor Bryan had said "JUST BUILD IT AND THEY WILL COME" came from, I have come to the conclusion that is what this is all about. To help people achieve their dreams and goals......That the courses will be a stepping stone towards their dream. Many people are working at hum drum jobs never seeming able to reach their promised land. This can be a jump start into a wonderful future.
With the new building we provide very reasonably priced accommodation for stone course students. It is an amazing program and many will come into good employment with the courses. They not only learn to do stonework, but how to start and operate their own small business doing stonework if they want to. That way they can work for someone else if they choose, but they are not dependent on that. We do not do the one month stone courses any more, but have now made all the courses into one week modules. This way if we get enough people wanting to do the same courses at the same time we can do them without people having to come for a whole month or two weeks as it was for quite a few years. Now people can pick the short courses that will fit with what they want to learn at the times they can afford the time and money to come. Adding more modules as time and finances permit. Like an ongoing education......If you are interested, check it out on our web site www.naturalstonesite.com under MASONRY TRAINING.......God has done many miracles in my life and one of the mind boggling ones is the fact that if you go to Google search engine and type in stone masonry training ..or stone masonry school my beautiful web site that Lori and James made for me comes up first on the first page in the whole world! ..... Well that is part of the history of the stonemasonry training school and Iris Lamb....the short version anyway ...More has, and will be happening which I haven't had time to write yet, and will add to and update from time to time......I pray that in the rest of my productive years God will use me to build something wonderful and worthwhile that will carry on to help people and glorify Him even after I am gone to live in the beautiful mansion Jesus has prepared for me, or I'm too old to be productive. Perhaps some of you will be reading about it in the next edition of the HISTORY OF SALMO many years from now !
God bless you abundantly! Principal-Administrator and one of the instructors. ~ Iris Lamb